With pineapple consumption continually on the rise due to increased availability from emerging growing locations, the MD2 hybrid was developed to satisfy a market looking for exceptional sweetness as well as uniformity and consistency in size and ripeness.

the primary consumption of pineapple outside of the tropics was out of a can. Smooth Cayenne was the principle variety both for "canned" pineapple as well as the limited production for fresh consumption. Another variety known as Champaka which is a PRI clone of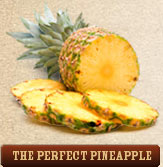 Smooth Cayenne was later grown for fresh consumption but never received wide reception due to the relatively high acidity of this variety.
In 1961, the Pineapple Research Institute (PRI) in Hawaii was charged with the responsibility of producing a variety that could be grown and accepted for fresh consumption. However, the mind-set remained on Smooth Cayenne and processing and no new varieties were tested except for small field trials.
The PRI, which was funded by the large pineapple companies, was dissolved in 1975 and the evaluation of all hybrid seedlings was completed at the Maui Pineapple Company by 1985 with several PRI selections being released to PRI member companies.
In 1993 a historical review of the PRI breeding program was written and indicated after 58 years that the pineapple breeding program did develop some PRI hybrids that had numerous characteristics better than Smooth Cayenne but gave no indication that a cultivar had been produced that would transform the world's fresh fruit export industry as all of them had flaws that prevented them from replacing Smooth Cayenne.
Despite this review, two selections, 73-50 and 73-114 resulting from the cross between two PRI hybrids, 58-1184 and 59-443 which are complex mixtures of several varieties, each more than 50% Smooth Cayenne, were identified. Between 1973 and 1980 testing of these two selections were made in Maui and between 1978 and 1980 were also tested in plantations on Oahu. In 1980, both lines were released to Maui Pineapple Company and Del Monte for further evaluations. In 1981, 73-50 was renamed MD-1 for internal use and 73-114 was named MD-2. Both were named after Millie, the wife of Frank Dillard, then General Manager of the pineapple company. 73-50 is now more widely known as CO-2.
In the mid 80's, MD-2 plants were shipped to Costa Rica. It is reported that it was the tenacity of two of the researchers that finally convinced their management to expand plantings and begin test marketing in the early 90's. This variety was originally introduced into Europe and then to the United States growing to $200 million dollars in sales by 1996.
MD-2 has now replaced Smooth Cayenne world-wide except for some small areas of production in Africa. It is now grown in several countries such as Ecuador, Panama, Guatemala, Honduras and Mexico but Costa Rica is by far the leading producing country with a reported 47,000 hectares of plantations.